Sonja Henie Lodge #29
Founded: October 9, 1971, Reno, NV
Meeting Details
When: Third Tuesday of month at 6:30 pm (Lodge does not meet July & August)
Where: Odd Fellows Hall, 1300 Stardust, Reno NV
Contact Us: email 
Click here for Sonja Henie Website
Lodge Highlights
The lodge hosts an annual Norwegian Smorgasbord in the spring that is open to the public. This lodge donates to Adopt-a-Family, Family Resource Centers and CAAW (Committee to Aid Abused Women). They also support the Grand Lodge Scholarship Fund.
Some of the local Norwegian and cultural events that Sonja Henie Lodge participates in include Snowshoe Thompson Day in Genoa, Nevada, Sons of Norway rosemaling classes and Norway Days in San Francisco, and teaches a Scandinavian cooking class at Truckee Meadows Community College (TMCC) in Reno, NV.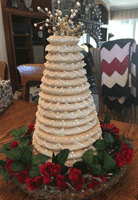 Kransekake
The lodge monthly meetings incorporate:
Scandinavian travel
Norwegian traditions
Norwegian & Scandinavian history & contemporary life
Singing of the Norwegian table prayer and Ja, Vi Elsker (Norwegian National Anthem)
Hands-on activities such as rosemaling & baking
Norwegian culture highlighting 

Stave Churches (S

tavekirke

)

, Norwegian authors, playwrights and musicians
History of Viking Foods

Norwegian wildlife and domestic animals (e.g.: Reindeer, Forest Cats, Fjord Horses)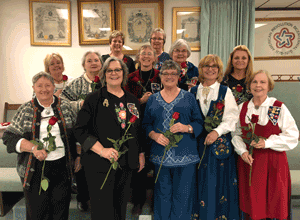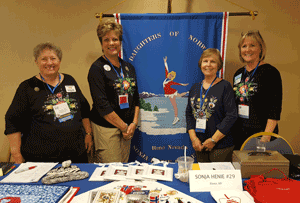 2018 Sonja Henie Lodge Officers                                                                   Sisters having fun at convention!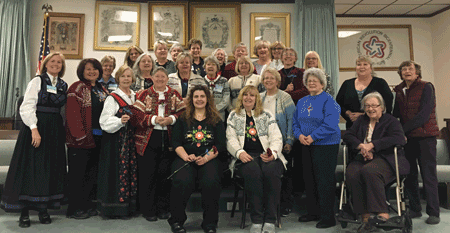 Sonja Henie member group photo
Lodge's Name
The lodge name honors the world famous 20th century Norwegian champion figure skater and movie star. Sonja Henie was one of the most popular celebrities of the thirties. She practically defined modern figure skating, being the first to combine skating with dance choreography, and originating the short skirt and white skates look that is still very much in vogue today.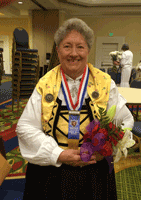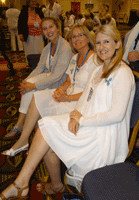 Perralina - 2016 Grand Lodge Trustee      Johanna, Cindy & Nikki
Born in Oslo, Norway, Miss Henie was only fifteen years old when she won her first world's skating championship in 1927. She repeated this accomplishment for ten years straight. She also took the Olympic Gold Medal in three consecutive Olympic Games: 1928, 1932 and 1936. She placed eighth in 1924 Olympic Games at the age of 12. She was decorated with the Cross of Knighthood of the first class of the Order of St. Olav, January 14, 1937. She formed the Hollywood Ice Revue with which she toured the country in a series of ice shows from the late 1930s through the mid 1950s. She starred in twelve films. In addition, she won eighteen ski championships and was an accomplished tennis player, winning three tennis championships; known in 1936 as the "Number Three" woman tennis player of Norway. In her lifetime she received over 500 awards and medals. Henie and her husband Niel Onstad settled in Oslo and accumulated a large collection of modern art that formed the basis for the Henie-Onstad Art Centre at Høvikodden in Bærum near Oslo. Sonja Henie retired in 1960 and died of leukemia on October 12, 1969.
An autobiography titled "Wings on My Feet" was published in 1940 and the biography "Queen of Ice/Queen of Shadows" written by Raymond Strait/Leif Henie, was published in 1985.