Frida Hansen (1855-1931)
Frida Hansen Lodge #37
Founded: March 5, 1989, Portland, OR
Meeting Details
When: Second Thursday of month at 6:30 pm (Lodge does not meet in July & August)


Where: Norse Hall, 111 NE 11th Avenue (at Couch Street), Portland, OR
Contact Us:  Click on this link to contact us.  Be sure to list our lodge if you want more information from us!  Please allow seven days for a return message.  Tusen Takk!
Lodge Highlights
Frida Hansen lodge attracts Scandinavian women from the greater Portland area. The lodge is famous for it's annual and popular Torsk (cod) Dinner in March. This lodge is not related to another Daughters of Norway lodge, Fylke, Lodge #6 that existed in Portland between 1910 and 1928 and was later absorbed by the Sons of Norway.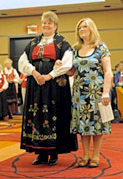 Lodge members Mary
Knutson Sullivan (left)
and JoAnn Mansfield
(right) both are past
Grand Lodge Presidents.
Frida Hansen members are very active in many of Portland's Scandinavian events. They participate actively in Portland's Midsummer Festival and always nominate one of their members as "Scandinavian of the Year". They participate in other Scandinavian organizations like the Leikarring of Portland and Sons of Norway Portland Syttende Mai (17th of May) celebration; and through outings supporting their sister lodge, Stjernen #7 in Astoria. They actively fundraise and participate in ScanFair held every December in Portland. The annual Christmas party includes family and friends!
Scandinavian programs include:
Crafts
Weaving programs
Viking Life & Times
Musical performances

Frida Hansen Lodge's March Torsk Dinner
is delicious ... complete with pea soup,
Nordic salad, rice cream dessert
and main course (torsk [cod] with
shrimp sauce, flatbrød, potatoes,
vegetable, & beverage

Life in Norway during WWII
Cultural events & celebrations
Hardanger embroidery presentation
Norwegian authors sharing their books
Lefse, krumkake demonstrations & workshops
Recollections or Norway during the Nazi occupation
Beading for bunad breastplates & belts presentation
Presentations on practical genealogy tips, folklore, history
Comparison of life as a teenager in Norway vs. America (Norwegian Exchange Student Reflections)
Lodge's Name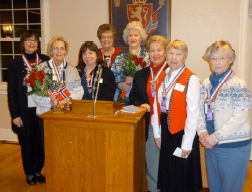 Frida Hansen Board Left to Rght: Secretary Julia
Ruscitti, Judge Karen Jones, 1 year Trustee Sharon
Cleveland, Cultural Director Doris Johnson, President La
Vonne Hovland, Vice President Nancy Peterson, Treasurer
Kay Nakao and Financial Secretary Jene Ellingson. Three
officers not pictured are Marshal Irene Ronning, 2 year
Trustee Janice Wallace and 3 year Trustee Rose Randall.
The lodge is named after the internationally renowned Norwegian textile artist of the Arts and Crafts Movement in the late 19th to early 20th century. Frida (maiden name: Petersen) Hansen was born in 1855 and raised in Hillevåg (now part of Stavanger), Norway. During her youth, Frida studied art under two other famous Norwegian artists from the Stavanger area. She later married a rich man in Hellevåg and designed a wonderful garden for their house.
During the late 1800's an Arts and Crafts Movement became the rage in the world of art as a result of the nationalistic movements occurring throughout Europe. Frida joined the movement using tapestry as a medium. In Norway, she is credited with helping revive tapestry weaving and establishing a weaving society there. Her art style evolved into more Art Nouveau. By 1900, she was internationally known and had exhibitions throughout Europe. She is still considered Norway's best textile artist of all time.