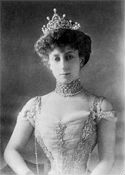 Queen Maud,
1906 (1869-1938)
Queen Maud Lodge #42
Founded: October 20, 2001, Carson City, NV
Meeting Details
When: Third Saturday of the month at 10:00 am. 
The lodge does not meet in July & August.
Where: Shepherd of the Sierra Lutheran Church
3680 US Hwy 395 So., Carson City, NV

Lodge Highlights

Queen Maud Lodge
bunad show

Rosemaled bowl
The lodge participates in Carson City (Nevada's state capital) events, such as Snowshoe Thompson Days, held in nearby Genoa, Nevada each year. John A. Thompson, the Norwegian-born winter mailman of the Sierra Nevada, lived in Genoa and is buried in the cemetery there. On the second Saturday in October, the lodge hosts its annual Scandinavian Festival featuring Nordic crafts, gifts, foods, music, demonstrations, samples and exhibits. The lodge also supports local charities. Eileen Bianchi, a Queen Maud member, wrote the song, We're Proud to be Daughters of Norway, which became the Daughters of Norway Grand Lodge's anthem.

A few of the lodge's Nordic programs have included:
Travelogues
Embroidery Workshops
Outings to Nordic Events
Rosemaling Demonstrations
Nordic Celebrations & Parties
Historical Figures Lives such as Leif Erickson & Edvard Grieg
Religious Meaning of the Swedish Candelabra
Song Workshops
Bunad Fashion Show
Food Workshops & Demonstrations
Crafts such as the Danish Paper Stars
Programs such as "Vikings in Ireland"
Lodge's Name
The Lodge is named in honor of Queen Maud of Norway. She was born in 1869 in London, England as the youngest daughter of the Prince and Princess of Wales of England (later King Edward VII and Queen Alexandra). In 1896, at age 27, she married her first cousin, Prince Charles (Carl) of Denmark, a naval officer and the second son of King Frederick VIII of Denmark. In 1903, they had one son, Alexander, who was born in England and who eventually became King Olav V of Norway. During Norway's separation from Sweden in 1905, Prince Carl was offered the Norwegian crown and took the name King Haakon VII, and Maud thus became Queen of Norway. The new royal family was welcomed into Oslo at the end of November 1905. They immediately moved into the Norwegian Royal Palace in Oslo, becoming the first Norwegian royal family to use this castle as their main residence.
King Haakon VII and Queen Maud's June 22, 1906 coronation at Nidaros Cathedral in Trondheim, Norway, was the last coronation of a Scandinavian monarch. This same year, the Norwegian people officially welcomed their new king and his family by giving them a royal residence—Kongsseteren, The Royal Mountain Farm. This lodge is near Holmenkollen, the world-famous ski jump overlooking Oslo and its fjord. Under Maud's directions, an English garden was created here. The family could ski from this lodge into the surrounding countryside and Maud did so into her sixties.
The Norwegians loved Queen Maud. She earned admiration for supporting charitable organizations, notably those involving children and animals. Maud strongly supported the arts—especially musicians and artists. The Norwegian explorer, Roald Amundsen, honored Queen Maud in 1939 by naming one of his discoveries after her in the Norwegian sector of Antarctic. Queen Maud Land is located between the Weddell Sea and Enderby Land. On November 20, 1938, Queen Maud died of a sudden heart attack in England, after successful gall bladder surgery, at age 68. She is buried at Akershus Castle in Norway, located on the coast coming into Oslo.
Queen Maud's husband, King Haakon VII, ruled from 1905 until his death in 1957. He was succeeded by their son, King Olav V, who died in 1991. King Olav V was succeeded by his son, King Harold V, the current reigning Norwegian monarch and Queen Maud's grandson.