Gina Krog (1847-1916)
Gina Krog #38
Founded: April 16, 1989, Bellevue, WA

Meeting Details
When: Second Saturday of month at 10:00 am (except in September & December meeting at noon) (Lodge does not meet in July & August)
Where: St. Andrew's Lutheran Church, 2650 148th Avenue SE, Bellevue, WA 
Contact Us:  Click on this link to contact us.  Be sure to list our lodge if you want more information from us!  Please allow seven days for a return message.  Tusen Takk!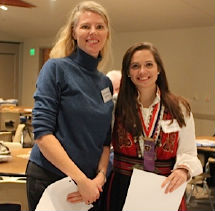 Anne Reagan Misner & Christina Beacham
Lodge Highlights
Gina Krog Lodge is active in their community and meetings. They participate in their annual Fall Marketplace, and the Ballard (Seattle) Syttende Mai (17th of May) Parade. The lodge also has various interest groups such as their popular book club.
Some of Gina Krog Lodge's Scandinavian programs have included:
The Sami
Norway Today
Writing your Story

A beautiful kransekake!

Prized Nordic Memorabilia
Breaking News of Ole & Lena
Cultural Events & Celebrations
History of the Church in Norway
Edvard Grieg, the Composer & his Music
Cookie Exchanges & Food Demonstrations
Norwegian Bunads — making Jewelry, Dolls, etc.
Norwegian History & Culture Through Wood Carvings
Lodge's Name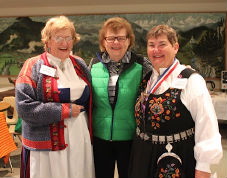 Members having fun!
Gina Krog was a Norwegian feminist, lecturer, writer and politician. She was born on June 20, 1847 in Flakstad, Loften, Norway. Her father, a pastor, died before her birth. Her mother moved with her children into her father's family home for the first years of Gina's life. In 1855 they moved to Kristiania (today's Oslo). She was a good student. In 1880, Gina studied in England at Bedford College where women's issues were the rage. She adopted women's rights and causes as her life's work. Gina began writing in the daily press on the issues affecting women. Upon returning to Norway and after teaching for a short time, she became a national leader in the woman's movement and established many Norwegian women's rights organizations. Although considered a radical in the woman's movement, she was willing to work with others to further the cause in less radical ways. She was appointed to a government post for international women's groups. Additionally, Gina was the editor of a popular woman's rights magazine (Nyænde) that also had a strong following in America with Norwegian-American women. She strongly believed women should have equal rights including the right to an education and voting rights. Her lifelong work helped change Norwegian laws so that Norwegian women gained more voting, working, educational rights and freedoms. She died on April 14, 1916 at the age of 69.