Borghild M.Dahl Lodge #54
Founded: May 6, 2017, Sioux Falls, SD
Meeting Details
When: Second Monday of each month at 
7:00 pm.  Time varies in December, January, & February.
Where: Our Savior's Lutheran Church (Friendship Room) 909 W. 33rd St., Sioux Falls, SD 57105
Contact Us: Click on this link to contact us!
Lodge #54 Display - Syttende Mai in Sioux Falls
1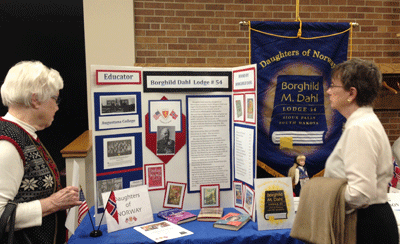 2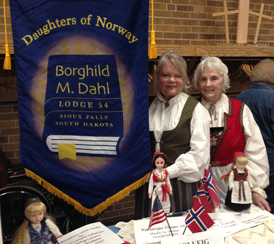 1. Borghild Dahl information table  2. Norma Barnes & Solveig Hendrickson with Lodge #54 banner
Jul Fest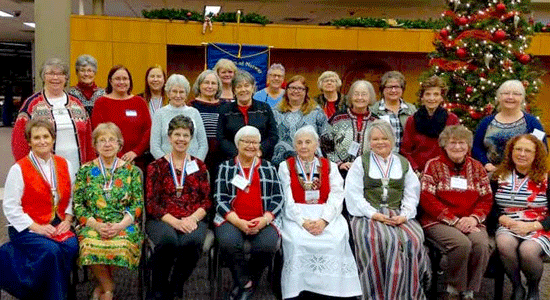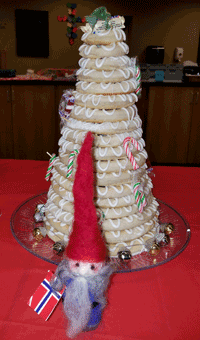 Jul Kransekake & Nisse
Borghild M. Dahl Charter Members & Installing Officers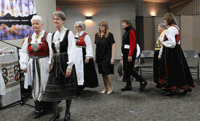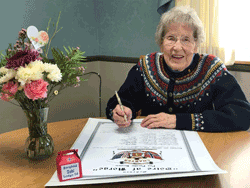 Installation of Charter Officers                            Irene Thorson (charter member)
Lodge Highlights
Our lodge enjoys celebrating our Norwegian heritage and sharing Nordic cultural traditions at each meeting.

 Some of our program topics have included:   
History of Syttende Mai 
Norwegian Ancestor Research Tips
Rosemaling 
Leif Erikson and the Vikings 
Norwegian Sweater Stories
Jul Fest
Flette Hjerter (woven hearts)
"Giants in the Earth" and other books on Norwegian immigrants 
Scandinavian wheat weaving
Kransekake
Viking Knit Wire Jewelry
Norway Travel Show and Tell 
Nålbinding

Norwegian Road Trip

The Vikings in Ireland

Sankta Lucia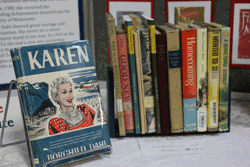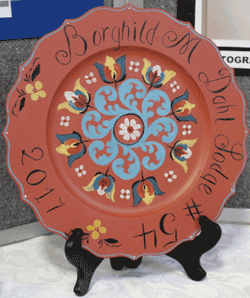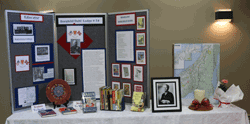 Lodge's Name
We chose Borghild M. Dahl, Norwegian-American professor and author, as our lodge namesake because her perseverance and triumph over blindness was an inspiration to her students at Augustana College in Sioux Falls and still inspires us here today! 
Borghild Margrethe Dahl was born on February 6, 1890, in Minneapolis, Minnesota, to Norwegian immigrants Peder Mogens Dahl and Ingeborg Knudsdatter Haugseth from the Rendal area of Hedmark in the 1880's.
Despite severely impaired vision since birth, she attended college and received her Bachelor's Degree from the University of Minnesota. Ms. Dahl earned an M.A. at Columbia University and was awarded a scholarship to study in Norway. In 1924 she became the first woman of a foreign country to be selected Norsk Akademiker at the University of Oslo. During the 1930s she taught Journalism and Norwegian at Augustana College and lectured widely before finally facing what seemed like a hopeless setback when she lost what little vision she had. 
Then an operation in 1943 improved her eyesight dramatically and she set forth on a new career as a writer. Her 1944 autobiography "I Wanted to See" told the inspirational story of her struggles and successes. Ms. Dahl  wrote another 15 books, many for children, based on her Norwegian heritage. In 1950, Ms. Dahl received the St. Olaf medal from the king of Norway for her work in promoting Norwegian-American relations. She received the Augustana College Sesquicentennial Award in 1975. She died on February 20, 1984, in Burnsville, Minnesota, at the age of 94.