Uniting into a sisterhood, women who wish to preserve Norwegian heritage; maintain among members a knowledge of the history, culture and language of Norway; and build a strong support system and bond of friendship within the sisterhood. 

Norwegian Holidays and Observances

May & June
Please consider making a donation for: Scholarships, Endowment, or the Organizational fund with the button below.  
If your donation is in the memory of a person or on the behalf of a person, please let us know in the "notes" box in the Paypal form.
This button can also be used for Associate Membership dues. (Please remit other membership dues through your local lodge.)


May 1 - Labor Day (National Holiday, Flag Day)
May 8 - Day of Liberation (Flag Day)
May 17 - Constitution Day (1814)(National Holiday, Flag Day)
May 18 - Ascension Day (National Holiday)
May 27 - Whit Saturday (Observance)
May 28 - Whit Sunday (National Holiday, Flag Day)
May 29 - Whit Monday (National Holiday)
June 7 - Dissolution of Union with Sweden (1905) (Flag Day)
June 21 - June Solstice (Season)
June 23 - Midsummer Eve (Observance)
June 24 - St. John's Day (Observance)
Velkommen (Welcome!)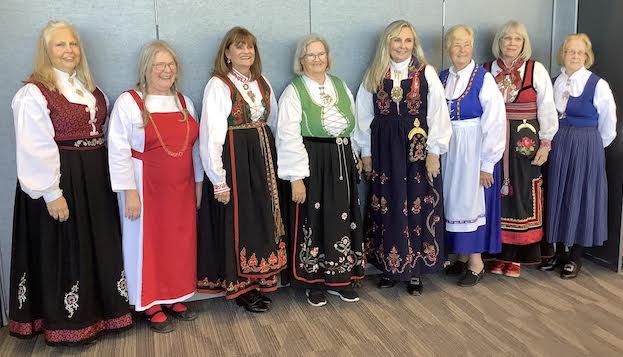 2021-2023 Grand Lodge Officers
Our biennial convention took place in July, 2021 at the Kitsap Conference Center  on the beautiful Bremerton, Washington waterfront. It was hosted by our WA  lodges Thea Foss #45, Nina Grieg #40, and Prillar Guri #30. We explored our  culture and heritage through talks and hands-on workshops, and held our delegate  business meetings. Walking tours and excursions in the Bremerton area gave us the  opportunity to celebrate our sisterhood. 
We are excited that our 2023 convention will be held in Reno, Nevada, hosted by local lodges Sonja Henie #29 - Reno NV, Queen Maud #42 - Carson City NV, and  Elise Wærenskjold #48 - Roseville CA.  
The best way to learn more about our sisterhood is to attend a lodge meeting where  you will be warmly welcomed. I invite you to click on our interactive map to  locate a lodge near you. If no convenient lodge is located in your area, please  consider joining us as an Associate Member, which is a way to be connected to our  sisterhood without a lodge affiliation. Perhaps you will be inspired to start a new  lodge in your area!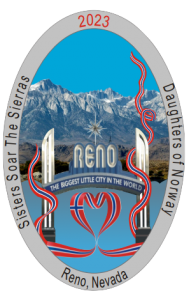 Click on Contact/Join at the top of this page for further  information.  
Please join us as our…… 
                                                   "Sisters Soar in the Sierras"
-Karen Karpen, Grand Lodge President


Advertise in our exclusive Døtre av Norge Magazine, Daughters of Norway Advertising Information & Rates.
Advertise in our 2023 Convention booklet or reserve
your vendor table for our Convention Cultural Day. 
For rates and more information click here