Uniting into a sisterhood, women who wish to preserve Norwegian heritage; maintain among members a knowledge of the history, culture and language of Norway; and build a strong support system and bond of friendship within the sisterhood. 

Norwegian Holidays and Observances

November & December
Please consider making a donation for: Scholarships, Endowment, or the Organizational fund with the button below.  
If your donation is in the memory of a person or on the behalf of a person, please let us know in the "notes" box in the Paypal form.
This button can also be used for Associate Membership dues. (Please remit other membership dues through your local lodge.)

November 5 - All Saints' Day (Observance)
November 12 - Fathers' Day (Observance)
December 3 - First Advent Sunday (Observance)
December 10 - Second Advent Sunday (Observance)
December 17 - Third Advent Sunday (Observance)
December 22 - December Solstice (Season)
December 24 - Fourth Advent Sunday
December 24 - Christmas Eve (Bank Holiday, Observance)
December 25 - Christmas Day (National Holiday, Flag Day)
December 26 - Boxing Day (National Holiday)
December 31 - New Year's Eve (Observance)



Velkommen (Welcome!)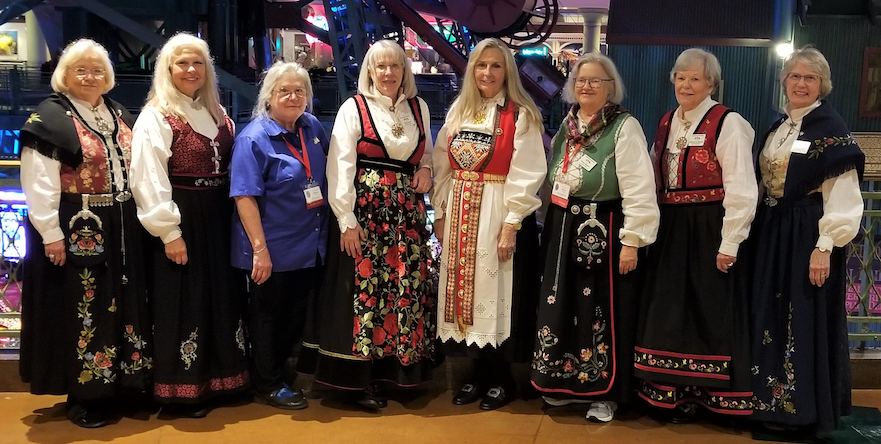 2023-2025 Grand Lodge Officers
Velkommen to the Daughters of Norway official website!
We are a Sisterhood of women connected by our Nordic heritage, and we hope to inspire you to make a connection with your heritage as well. Our organization includes many different Lodges from the Midwest to the Pacific Coast of the United States.
Our very successful biennial 2023 Convention was held in Reno, NV, and hosted by Sonia Henie Lodge #29, Queen Maud Lodge #42, and Elise Wærenskjold #48. The theme for the convention was, "Sisters Soar the Sierras." We started festivities with a Cultural Day of Classes, featuring traditional arts from Hardanger embroidery, to Rosemaling Art, to Scandinavian Dancing. We also had a Bunad Fashion Show describing the region each bunad came from, as well as their history. In addition, we had two days of Delegate meetings full of rich Norwegian rituals.
On July 16-19, 2025, we will "Hasten to the Heartland" Convention in Sioux Falls, SD.  This Convention will be hosted by Borghild M.Dahl Lodge #54, Rosanna Gutterud Johnsrud #53, and Mina Aasen Lodge #55. Enjoy following the little Nissen in their introductory video as they guide us on the journey to the next Convention location!
On August 26, 2023, our newest lodge, Gudrid the Far-Traveler Lodge #56, will be instituted in Omaha, NE. You'll be able to find the Gudrid Lodge as well as all the others on our Interactive Map page here on our website. If you would like to join Daughters of Norway, but there is no convenient lodge in your area, please consider joining as an Associate Member. An associate membership offers you an opportunity to be connected to our Sisterhood without lodge affiliation. All members receive the Døtre av Norge bi-monthly news magazine, which contains further stories about our Nordic culture, customs, Nordic recipes, music, weaving, and Lodge activities.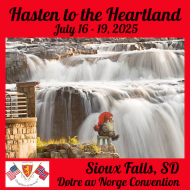 As your 50th Grand Lodge President, I am humbled and honored to serve during this time as our organization looks back on 115 years of rich history. May we have many more rich years to come on our Sisterhood journey together!